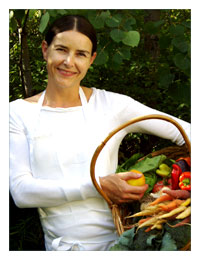 As a child growing up in Sydney, Australia, Radha's passion for cooking began with helping her mother prepare diverse and creative meals at home, using organic vegetables and herbs from their garden.
As she grew older her passion developed whilst travelling throughout Europe and South-East Asia leading Radha to learn more about different cuisines which both inspired and enhanced her international repertoire.
Radha worked in kitchens in Australia and the U.S. over a period of 11 years before launching her personal chef business in NYC in 2008, creating personalized weekly meals for her clients as well as catering for events, dinner and cocktail parties.
In 2014 Radha published her cookbook Purely Vegetarian and since 2016 has been living and working in the Hudson Valley.  Radha promotes cooking with farm to table seasonal and organic ingredients the Hudson Valley is famous for.